High Visibility Apparel
By: Michael Eckert, Deputy Chief
Introduction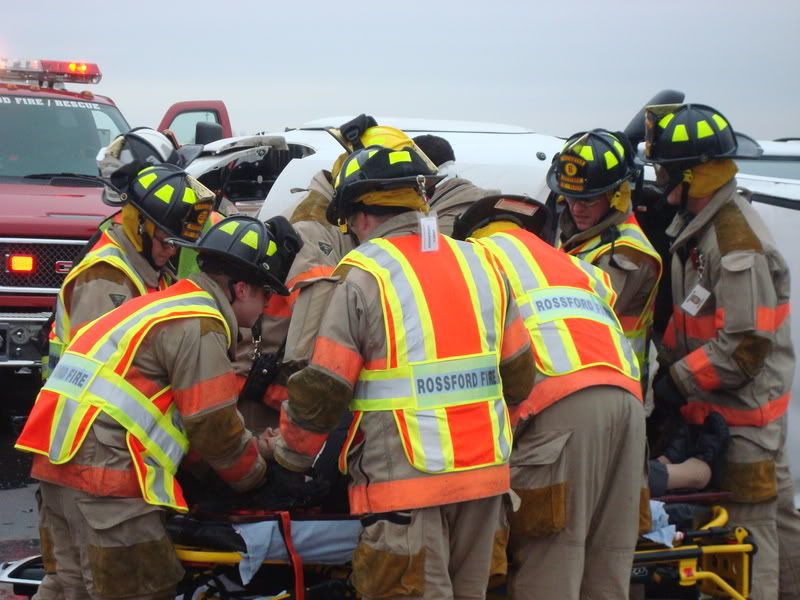 There is much talk these days regarding safety for firefighters, police, EMS, towing/ recovery operators and other professionals whose "office" frequently takes them within inches of moving traffic. The attention to this topic is justified. There have been a numerous documented injuries, fatalities and an untold number of "near hits" of first responders on our nation's roadways in the past twenty years. In the past few years, this author has been personally affected by such a tragedy and indirectly involved by several others. Most of you reading this could likely share many of your own stories as well. While there are simply too many to mention individually, our collective efforts and thoughts are dedicated to those individuals affected by these incidents in the spirit of preventing reoccurrence.
Most of the chatter recently is related to the upcoming November 24, 2008 deadline for the use of high visibility apparel (vests) by first responders working near motorists. While this is certainly an important component of the traffic safety puzzle, do not be misled. Working safely in the right of way requires a multi-faceted approach that includes worker training, advanced warning, personal protective equipment (PPE) and perhaps most importantly, interagency cooperation. Remember your safety hierarchy: PPE is the LAST line of defense against a hazard. Due to the imminent compliance date, this article will discuss the high visibility apparel compliance issue. Additional issues regarding safely working near traffic will be addressed in a future article.
Background
While motorist and construction worker safety has been emphasized for years in legislation and transportation funding bills, first responder safety was heightened in the 23 C.F.R. Part 634 –Worker Visibility, a federal regulation mandated by SAFETEA-LU, the 2005 act that funds US transportation for a five year period. FHA published the final rule in November of 2006 and it becomes effective on November 24, 2008.
What's Required?
In essence, this regulation requires that all workers (including first responders) working near traffic on a Federal funded highway to wear an ANSI/ISEA107 (2004) Class II or III high-visibility vest or an ANSI/ISEA 207 (2006) high visibility vest, both with retroreflective striping. The former (ANSI/ISEA 107) is the standard that is used and applied in several disciplines (including construction) and the latter (ANSI/ISEA 207) is designed with the needs of emergency responders in mind, including optional five point breakaway features, badge tabs, microphone tabs and provisions for agency specific lettering. Key components of either of these vest styles are the use of fluorescent high visibility colors; retroreflective striping that makes users visible at 360 degrees through a wide range of body motions and garment labeling to evidence its compliance with either ANSI/ISEA 107 or 207.
It is also important to reference the MIOSHA General Industry – Part 33 (Personal Protective Equipment) standard, NFPA 1500 (2007) and NFPA 1901 (2009 – proposed) for additional guidance. Links to all of these have been provided at the end of this article.
Frequently Asked Questions
Q. Are these vests safe to use in proximity to fire?
A. No. These should not be used when performing firefighting activities or those activities with a significant risk of fire or when actively using extrication or related tools.
Q. Doesn't my turnout gear provide me with enough visibility?
A. No (arguably.) While some studies suggest similar visibility is possible, most experts concur that a high visibility vest will provide better visibility largely due to the additional fluorescent colored material. Additionally, while keeping turnout gear clean is essential for a number of documented reasons, including retaining the retroreflective benefits of the striping, this and the rigors of firefighting alone may reduce the retroreflective properties of the striping.
Q. Does each firefighter need their own vest or can they be shared?
A. Performance here is the key. Make sure everyone who is on the road has a vest on, period. Generally, Personal Protective Equipment should not be considered shareware, so the recommendation is to issue compliant, appropriately sized garments to each firefighter.
Q. Should vests be kept in place on turnout coats and removed only when necessary for firefighting, etc?
A. In my opinion, yes. In most departments, the majority of responses would allow and benefit from the vests being in place on turnout coats and removed when necessary for firefighting or heavy tool use. (An individual department decision for sure, but in a non-scientific study on my department, we found that in 100 uses, the vest was able to safely remain in place on a turnout coat on over 75% of the responses and that it is easier to remove it infrequently than to don it frequently.)
Conclusion
This standard now places yet another compliance challenge to emergency responders, but it is a worthy undertaking. Each Michigan fire department should strive to meet this standard by the November 24, 2008 compliance date. Remember: "If your feet are on the street, put a vest on your chest." In the next article in this series, additional traffic safety measures will be reviewed.
References/Resources
A special thanks to the folks at www.respondersafety.com and www.firefighterclosecalls.com for their continued passion and work on firefighter safety and survival issues, including this one. We are truly blessed to have to them watching our back. These and additional references and resources were used to develop this article and are credited here and provided for your use.